Duct Insulation Service Near Maple Grove, Saint Cloud, Eden Prairie, & Nearby
Use less energy to comfortably heat and cool your home
If the ducts in your home are poorly sealed or insulated or aren't insulated at all, they could be costing you hundreds of dollars a year on your heating and cooling bills and making rooms in your home uncomfortable. Ductwork that's located in an attic or vented crawl space can make problems even worse. You can save money, make your home safer and more comfortable and reduce noise by sealing and insulating your ducts.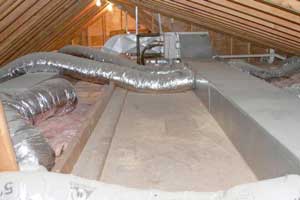 Poorly sealed or uninsulated ducts in your attic or vented crawl space are a major source of comfort issues and energy waste.
Benefits of insulating your ducts:
Warmer rooms in winter
Cooler rooms in summer
Less dust and noise
Lower fuel and electric bills
Longer furnace/AC equipment life
If you're looking for a professional to help with insulating your ductwork, contact the insulation experts at DBS today to schedule your in-home consultation and get a free cost estimate.
---
---
The problem: Leaky ducts waste money and affect comfort
Ducts have lots of joints, gaps and holes. These are not only air leaks into the vented attic or crawl space when the air handler is off, but they are powered air leaks when it's on. Air you paid to heat and cool and want to go to your rooms is leaking out of the ducts into your attic or crawl space and is lost.
Our solution: Tight 'n True™ Duct Encapsulation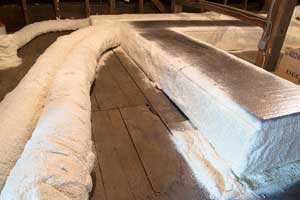 Ductwork insulated with spray foam.
We will seal and insulate your ducts right over the existing insulation with closed-cell foam insulation. Not only does Tight 'n True™ Foam Duct Encapsulation have a superior R-value per inch, it also recovers some insulation value from your existing duct wrap by making it airtight. When this solution is combined with TruSoft™ blown insulation in the attic, the ducts are often substantially buried in cellulose insulation as well. If you have ductwork in your attic or crawl space that isn't insulated at all, we can add insulation with the right R-value for the job.
Now, when your furnace or air conditioner heats or cools the air, that heating/cooling is delivered to your rooms without loss along the way!
Why hire a professional to insulate ducts?
Although duct insulation products like duct wrap and duct sleeves can be found in home improvement stores for DIY installation, the U.S. Department of Energy recommends hiring a qualified professional to seal and insulate ducts to ensure that the proper materials are used and installed correctly.
Ready to make your home more comfortable and stop wasting energy? Start by scheduling a free in-home consultation and estimate. Our free cost estimates on duct insulation and home insulation services are available in Eau Claire, Eden Prairie, Saint Cloud, and the surrounding areas. Call today!
Looking for a price? Get a no cost, no obligation free estimate.