Professional Basement Finishing in Blaine, Minneapolis, St. Paul, & Surrounding MN and WI Areas
Creating a warm, beautiful, private space in your finished basement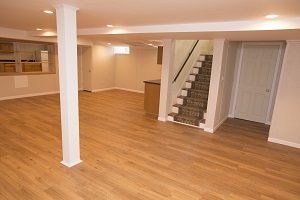 Let our experienced contractors create a beautiful, long-lasting, waterproof design for your Minnesota and Wisconsin basement.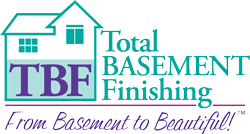 The Total Basement Finishing System™ (TBF) has been carefully researched and designed by the best, most experienced basement finishers and waterproofers in the business. Utilizing the latest products and techniques, the Total Basement Finishing System works for basement finishing of all types. We offer financing and payment options to keep repairs within your budget.
DBS, your local TBF™ contractor, would like to help you transform your damp, musty basement into dry, beautiful and unique space. If you'd like to take the first step in taking advantage of that unused floor space in your Minnesota and Wisconsin basement, call us today! Our services are available in Blaine, Minneapolis, St. Paul, and surrounding areas.
Finish & customize your basement with one system
Basement finishing challenges:
Building around obstacles such as staircases, support columns, and windows
Working around utilities such as furnaces and water heaters
Ceilings that are low or have pipes and ductwork
Creating a well-lit, beautiful environment
Uneven or stone walls
The TBF™ system is made to perfectly fit your basement environment. It's versatile enough to work with any design idea you have in mind for the space - from a family room, to a home gym, to a wine cellar and more.
Your basement is a unique environment, with challenges that do not appear anywhere else in the home. Obstacles such as low ceilings, utilities, and dampness are exactly what the TBF system is designed to handle.
Before and After
Before

After

A couple from Wayzata, MN called DBS with a water problem in their basement. They had lived in their home for 20+ years, and they had noticed the mildew scent and mold problem growing in their basement. The water damage had moved to their flooring and they needed to fix the damage as soon as possible. DBS sent our Design Specialist, Henrick Makitalo, to the home, their solution was our SaniDry dehumidifier and basement waterproofing system. After installation of our SaniDry, the mold problem was resolved and DBS could move forward to work on redoing the floor areas that had water damage.

Our customer was very satisfied with our work, he said that the DBS team had very hard workers and he was proud to say that we were problem-solvers with great solutions. We worked directly with him to hear his opinions along the way, tell him about the benefits of our services, and ensure his house turned out the way he wanted. He even liked the SaniDry dehumidifier so much, he purchased another one for his cabin!
Basement finishing options:
DBS can customize your basement finishing system into just about anything you can dream of, including but not limited to:
Home Office
Personal Gym
Guest Suite
Children's Play Area
Spare Bathroom/Kitchen
Home Theater
Lighting

Timeless Design

Options

Drop ceilings provide a unique opportunity to blend many types of lighting options in a single basement.

They're compatible with lighting of all types, including fluorescent lighting, task lighting, pendant lights, and suspended lighting.

Our walls are solid enough to easily support the weight of mounted light fixtures, while our basement windows and window wells are designed to maximize natural light.

Our basement walls are designed with an appealing beige and off-white blend. These are two colors that will never go out of style.

The vinyl surface of the wall is very durable and easy to wash. Even stains from marker, pen, and paint are easily washed off.

The distinct pattern of our wall panels helps to hide small holes from nails and tacks after being patched with a bit of putty or even toothpaste!

With many different finished floor designs, we have a waterproof flooring option for every style finished space.

If our wood, tiled, and carpeted designs are not what you had in mind, we can also provide waterproof basement sub flooring, so you can install a custom carpeting.

Additionally, we have a wide variety of crown molding designs, ceiling tiles, and basement wall designs that we'd like to discuss with you.
Call today to start your basement finishing project
Drywall, organic materials, and fiberglass-based products are simply not up to the job in a finished basement. The basement wall panels, ceiling tiles and flooring we install are created with waterproof materials that are built to last, without absorbing moisture. Call us today to receive a free estimate!
DBS is your local basement finishing company in the Duluth Superior Area area, including Blaine, St. Paul, Minneapolis, and nearby areas in Minnesota and Wisconsin.
Looking for a price? Get a no cost, no obligation free estimate.