Sump Pump Systems in Duluth Superior Area
Sump pump installation & backup pumps in Minnesota and Wisconsin
Hear from real customers about how Basement Systems sump pumps can prevent damage to your basement in severe weather.
A sump pump can be an incredibly valuable resource in your home. When water gets into your basement, the sump pump is what protects you from a flood that could cause expensive property damage. If you've had issues with water in your basement -- and even if you haven't -- it's smart to protect your home with a quality sump pump from DBS.
We install several cast-iron sump pumps that provide reliable water removal in the basement. These sump pumps have been tested in the harshest conditions and passed with flying colors, and you can count on them to protect your home.
If you're interested in adding a sump pump to your home, give us a call today at 1-855-259-9625 or click below to get started. We offer free estimates in Duluth, St. Paul, Minneapolis, and throughout the surrounding areas.
Before and After
Before

After

This homeowner in Winter, WI reached out to DBS with a waterproofing project. The owner wanted to set up a waterproofing system with a new sump pump to make traveling during the winter months possible.

Design Specialist James Miller assisted the homeowner in a free, no-obligation estimate. After a thorough inspection, James provided a quote and recommended our TripleSafe® sump pump.

Foreman Dustin Behning led the installation of this project along with a crew. Together, the crew installed the TripleSafe® sump pump. This sump pump provides three levels of protection. This ensures that the product will continue to work even if one level happens to fail.

This homeowner can now travel for long amounts of time without worrying about water intrusion in their home.

Before

After

This Chetek, WI home was built in 2000. Just this year, the homeowners had isssues with water intrusion in their basement, that caused damage to their drywall and plywood walls.

Our Design Specialist Rich Johnsen visited the home and provided a free, no-obligation estimate for the waterproofing work. It was determined that a drainage system and new sump pump were needed to protect the home after heavy rains.

DBS Foreman Zach Jorenby and crew worked on the interior waterproofing job. The crew began by breaking out concrete to create a trench around the home's footing. Our WaterGuard® drain system was put into place and will effectively capture wall and floor seepage, directing it to a new SingleSafe™ sump pump. The crew finished the job by burying adding an IceGuard® outlet to prevent any winter time freezeups of the discharge line.

This homeowner no longer has to worry about basement flooding, and can count on a dry basement going forward.

Before

After

In this Ashland, WI home, the homeowner experienced water entering into their basement. They wanted to work with a company that could provide a long-lasting solution, so they decided to team up with DBS.

Design Specialist Hendrik Makitalo met with this homeowner and conducted a free no-obligation estimate for their flooding problem. After conducting a thorough inspection, Hendrik advised the owner to invest in a solution called the WaterGuard® Drain System along with the TripleSafe™ sump pump.

Foreman Dustin Behning led this successful installation of the WaterGuard® Drain System. The team started by jackhammering trenches and placing the drains within. After placement, the drains are covered with concrete for a smooth, flush look. The team also installed the TripleSafe™ sump pump which handles 6,200 gallons of water an hour and has a backup battery operation in the case of power outages.

This owner can now enjoy their water-free basement in their healthy home.

Before

After

These homeowners in Maple, WI reached out to us looking for help with their wet, leaking basement. They wanted a professional and permanent solution and trusted DBS to help.

Design Specialist Zach Guilliams went to the home to run a free, no-obligation estimate for the homeowners. After a thorough inspection, Zach provided a quote for our basement waterproofing solution.

Foreman Glen Olcott led the installation of this project with help from a crew. Together, the crew installed our WaterGuard® french drains around the basement and also. This system keeps the space dry and effectively leads the water intrusion to the sump pump to be removed from the home.

Now that the basement has been waterproofed, the homeowners can relax knowing their home is dry and healthy!

Before

After

These renters in this Lutsen, MN home were having problems with water intrusion. They had to continually patch, fix, and paint the walls. Finally, they said enough is enough and had DBS help them with this project.

Design Specialist, Zach Guilliams, assisted the residents with a free, no-obligation estimate for the home. After careful inspection, the Design Specialist recommended the installation of a WaterGuard® System.

Foreman Dustin Behning, along with a team, led the installation of this project. Together, the team installed the French drainage system in the floor. This drain collects water seepage from the walls and floor joists before it enters the home. It is then transported to a sump pump and discarded outside of the house. The drain is then covered with concrete, creating a flush look.

These residents will no longer have to worry about painting and patching. Once the concrete is dry, the drain system will be on the job.
TripleSafe™ Sump Pump System

The TripleSafe™ Sump Pump System provides three levels of protection for your basement and your peace of mind. For normal functioning, the TripleSafe™ has a powerful, cast-iron Zoeller® ⅓ horsepower sump pump set at the lowest level. For heavy volumes of water or in case of primary pump failure, a second, more powerful Zoeller® ½ hp pump set a bit higher in the liner will take over. In case of a power outage, our UltraSump® battery backup sump pump, set at the highest level, will pump 11,500 gallons or more on a fully charged battery!

The ⅓ hp primary pump can discharge 2,220 gallons of water per hour at an 8-foot head, while the ½ hp secondary pump can discharge as much as 3,900 additional gallons of water per hour at an 8-foot head. In the case of a tripped circuit, power outage, or sump failure, your TripleSafe™'s UltraSump® Battery Backup System will kick in. A second battery can be hooked up to a single system for an even longer running time. All told, this system provides the ultimate protection for homeowners who have had issues with water in their basement.
SuperSump® Premier Sump Pump System

For an effective and more economical solution, consider our SuperSump® Premier Pump System. It is engineered to help keep the basement dry and healthy for extended periods of time, even in times of heavy water intrusion. The SuperSump® includes a powerful Zoeller® ⅓ horsepower cast-iron sump pump, capable of pumping 2,220 gallons of water per hour at an 8-foot head out of your basement. The SuperSump® can also be installed with an optional UltraSump® Battery Backup Sump Pump, which can pump out 11,500 gallons or more on a single charge!

If you have had occasional water issues but not a severe flood, the SuperSump® may be the ideal option for your home. This complete system provides total protection, and like all of our sump pump systems, works perfectly with our drainage systems.
SmartSump™ Crawl Space Sump Pump System

If you're looking for a crawl space sump pump installation, the SmartSump™ Crawl Space Sump Pump System is the ideal option. The SmartSump™ is specifically designed for crawl spaces and can provide all the protection you need from leaks and floods. The SmartSump™ comes equipped with a cast-iron Zoeller® primary pump with the option of adding an UltraSump® Battery Backup Sump Pump. This sump pump is designed to fit with the CleanSpace® liner and has a sump alarm to ensure you are always aware of any water in your crawl space.

The SmartSump™ system comes with a reliable Zoeller® 1/3 horsepower sump pump capable of pumping 2,500 gallons per hour at a 5-foot head. This system is designed to fit with our crawl space encapsulation system, ensuring that you have a completely dry, clean crawl space.
UltraSump® Battery Backup System

Of course, in many cases water issues in the basement are caused by severe weather that can knock out power. With that in mind, we created the UltraSump® Battery Backup System to ensure continued protection no matter what happens. In the event of loss of power the battery backup will automatically kick in and begin removing water from your basement, preventing a flood. The UltraSump® system can pump out in excess of 11,500 gallons of water on a fully charged battery, which is enough water to fill a small swimming pool!

The battery backup also comes with an alarm to alert you in case of power failure, sounding when the backup pump is running and silencing when power is restored. This alarm also protects you in case the main system is accidently unplugged, which could otherwise leave your basement unprotected. The UltraSump® can outlast generic backup pumps many times over, and an additional battery can be attached for further protection.
These key additional features will provide you with total peace of mind
Learn what makes our sump pumps the superior choice in this product comparison video.
Our sump pump systems include the following features:
WaterWatch® Alarm: Sounds off to let you know if water has risen past the point where the pumps should have turned on.
SuperLiner Sump Liner: Large enough to keep your sump pump working properly without turning on and off repeatedly, but not so large that your liner goes too deep, making your sump pump wear out prematurely as it pumps out unnecessary water.
Airtight Sump Lid: An airtight lid keeps odors and humidity out while protecting your sump from debris from the basement floor. Rubber grommets around all pipes and wires help maintain the airtight lid and also help to keep all PVC pipes steady and quiet.
CleanPump Stands: These sump pump stands are installed to raise the pumps off of the bottom of the liner. Any silt or sediment that settles on the bottom of your sump pit will be kept away from your pump. These stands also allow for height adjustment of the pump if necessary.
IceGuard® Discharge Line Protection: Many sump pump discharge lines are susceptible to freezing during the cold winter months. Our IceGuard® discharge line protector is the solution to this problem! This specifically designed grated adapter is located outside where the discharge line exits the house. If the pipe underground freezes in the winter, water can still be pumped out without the worry of backups into your basement!
*Note: The IceGuard® does not come standard with our sump pump systems.
Sump pumps should always be installed with a perimeter drain system to ensure that all water is drained to the sump pit and removed from the basement.
We stand by our products with expert installation, repairs & maintenance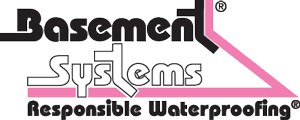 In the same way that you wouldn't hire a basement waterproofer to fix your bathtub, you wouldn't hire a plumber to jackhammer your basement and install a drainage system. When you choose us to install your sump pump, you can count on experienced and knowledgeable waterproofers who install sump pumps and basement waterproofing systems every day. As part of the international Basement Systems network, we have access to the best products and training available, giving you confidence that we can protect your home from water damage.
In addition to installation, you can always count on DBS for repairs should you ever need them. If anything goes wrong, we will be there to help you quickly get your system working and back to protecting your home. To prevent these issues, we also offer annual maintenance to ensure your system is working properly. During this process, we will inspect and clean the entire system, including the discharge lines. No matter what, you can count on us to help with your waterproofing needs!
Get a free sump pump installation quote today!
If you're interested in a new sump pump or any of our other basement waterproofing products, contact us today to request your free estimate in Minneapolis, St. Paul, Duluth, or nearby.